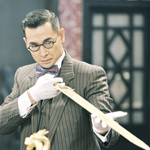 WU DANG is not only an alternate spelling of "Wu Tang" and an excellent new exclamation to use, but also a nice period martial arts picture that just came to the region 1 DVD. The director is Patrick Leung (THE TWINS EFFECT II), the action choreographer is the great Corey Yuen.
Vincent Zhao, star of TRUE LEGEND, plays Dr. Tang Yunlong, a sort of more buttoned down Indiana Jones type of treasure hunter. In the opening he goes to appraise a legendary ancient sword, like Steven Seagal does on the weekends. He identifies it as a fraud, but the carrying case is apparently real because he breaks it open and pulls out a map to 7 treasures on the Wu Dang Mountain. Then it's "well, gotta be going now fellas" as he tries to walk away with the map, which means he has to fight his way out. This is great because he's wearing a pinstrip suit, a bow tie, round glasses and white gloves and he's leaping through the air, punching through walls, crushing guys' legs in doors. (read the rest of this shit…)
VERN has a new action-horror novel out called WORM ON A HOOK! He has been reviewing movies since 1999 and is the author of the film criticism books Seagalogy: A Study of the Ass-Kicking Films of Steven Seagal and Yippee Ki-Yay Moviegoer!: Writings on Bruce Willis, Badass Cinema and Other Important Topics as well as the crime novel Niketown.