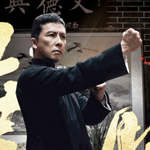 IP MAN 4: THE FINALE is from the makers of the IP MAN trilogy, according to the giant standee in the multiplex lobby that made me aware of its Christmas day release. I'm grateful to be able to see movies like this on the big screen.
IP MAN is a series released across 11 years with stories spanning from the 1930s to the 1960s, with the great Donnie Yen (HIGHLANDER: ENDGAME) not only showcasing his great fighting skills (in a style he hadn't previously practiced), but also giving his greatest acting performance as this distinctly gentle and polite asskicker. That's why I wish it could go on forever. I'm sure we'll get other great Donnie Yen movies, but I'll miss him playing this character.
The final Ip Man adventure begins with the 1964 Long Beach International Karate Championships and takes place primarily in San Francisco's Chinatown. Back home in Hong Kong, Ip lives in a tiny apartment with his moody teenage son Ip Ching, who has been kicked out of school for fighting (actually defending himself with too much enthusiasm). The principal and others convince Ip he should send his son to study abroad, so he decides to use a plane ticket sent to him by his former student Bruce Lee (Danny Chan, the Bruce-lookalike goalie from SHAOLIN SOCCER who subsequently played Lee in the TV series The Legend of Bruce Lee and then IP MAN 3) to try to get him admitted into a school in San Francisco. (read the rest of this shit…)
VERN has a new action-horror novel out called WORM ON A HOOK! He has been reviewing movies since 1999 and is the author of the film criticism books Seagalogy: A Study of the Ass-Kicking Films of Steven Seagal and Yippee Ki-Yay Moviegoer!: Writings on Bruce Willis, Badass Cinema and Other Important Topics as well as the crime novel Niketown.