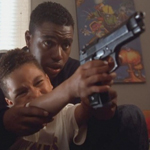 MENACE II SOCIETY is generally considered the best and most hardcore of the '90s "hood movies." BOYZ N THE HOOD (released almost 2 years earlier) was already controversial and blamed for violence near theaters  despite its unmistakable Increase the Peace preachiness. Now here comes this lower budget movie with more violence, more anti-social behavior, more expectation of the audience to know right from wrong, and no Huxtable sweaters, football or Stanley Clarke fusion to help the medicine go down. The "nice kid" in this one is a drug dealer who, when he gets a call from a girl telling him she's pregnant with his baby, says "Look, I ain't got time for this. Peace."
It's narrated by that kid from Watts, Caine (Tyrin Turner, PANTHER), telling the story of his summer after graduating from high school. It starts with him and his friend O-Dog (Larenz Tate, WAIST DEEP) going into a mini-mart for 40s and getting into an argument with the Asian couple who run it (June Kyoto Lu [who was in CONFESSIONS OF AN OPIUM EATER!] and Toshi Toda [LETTERS FROM IWO JIMA]). Caine and O-Dog are being jerks, opening the bottles before paying for them, even though they're under 21 and oughta be grateful that these people are gonna sell it to them in the first place. Caine is kinda laughing it off but then fuckin O-Dog decides to shoot and kill the couple. He takes the security tape and spends the summer showing it to all his buddies like it's a funny Jackass video or something.
This shows you the relationship between these two. Caine knows it's stupid to be showing it to people, and he complains about it every time, but he never makes him stop. (read the rest of this shit…)
VERN has a new action-horror novel out called WORM ON A HOOK! He has been reviewing movies since 1999 and is the author of the film criticism books Seagalogy: A Study of the Ass-Kicking Films of Steven Seagal and Yippee Ki-Yay Moviegoer!: Writings on Bruce Willis, Badass Cinema and Other Important Topics as well as the crime novel Niketown.