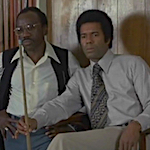 TROUBLE MAN is a solid tough guy movie from the early '70s Black action cinema movement. Director Ivan Dixon was an actor (PORGY AND BESS, A RAISIN IN THE SUN, NOTHING BUT A MAN) turned TV director (The Bill Cosby Show, Room 222, Mod Squad) making his first theatrical feature. He followed this with the much more politically radical THE SPOOK WHO SAT BY THE DOOR, and I don't think it's a coincidence that he went back to TV after that.
The script is by John D.F. Black, a white TV writer who had worked on some of the same shows as Dixon and then wrote SHAFT. The feel of this one is closer to SHAFT than SPOOK. It's a serious and gritty movie, but it's less concerned with militancy and more the standard staples of the genre often referred to as Blaxploitation: the wish fulfillment of larger-than-life manliness, some garish period style, and an outstanding soundtrack album by a genius soul artist – Marvin god damn Gaye!
The hero (Robert Hooks, STAR TREK III: THE SEARCH FOR SPOCK, King David in POSSE) is actually called Mr. T, or sometimes just T. Though he might be able to make a claim for Toughest Man in the World, he has little else in common with the other Mr. T. He has regular hair and wears suits and ties. Sometimes a little flashy, I guess. And the ties are almost as wide as your head, but everybody else in the movie is wearing those too. (read the rest of this shit…)
VERN has a new action-horror novel out called WORM ON A HOOK! He has been reviewing movies since 1999 and is the author of the film criticism books Seagalogy: A Study of the Ass-Kicking Films of Steven Seagal and Yippee Ki-Yay Moviegoer!: Writings on Bruce Willis, Badass Cinema and Other Important Topics as well as the crime novel Niketown.