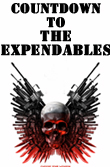 For my Countdown to The Expendables I probly should've watched RED SONJA, since they put Schwarzenegger on the cover but I don't think he has a big role. For THE EXPENDABLES they can't use his name in the advertising but they sure love plastering his cameo all over the ads. So don't get the wrong idea here, he's not a true Expendable. He's just a bit player.
Oh well. Today I'm trying out one of his movies from the precarious late '90s, when they weren't really doing as well so he was forced to quit acting and switch to his backup plan of being Governor of Caleefornia.
END OF DAYS is one I had previously skipped, in which Schwarzenegger has to save the world from The Devil. I guess I just figured somebody would've said something if this one was any fun at all. I don't care if the Toxic Avenger already did it, I think anybody would enjoy seeing Arnold defeat the Prince of Darkness using his fists. Or even some guns. Or he could blow him up and have to jump away from the explosion, like in PREDATOR. The fact that nobody's ever told me much about this movie is a good hint that it's not something crazy, it's just some more gloomy, mediocre, pre-millennial, digital era demonic bullshit like other less musclebound stars were doing. (read the rest of this shit…)
VERN has been reviewing movies since 1999 and is the author of the books SEAGALOGY: A STUDY OF THE ASS-KICKING FILMS OF STEVEN SEAGAL, YIPPEE KI-YAY MOVIEGOER!: WRITINGS ON BRUCE WILLIS, BADASS CINEMA AND OTHER IMPORTANT TOPICS and NIKETOWN: A NOVEL. His horror-action novel WORM ON A HOOK will arrive later this year.