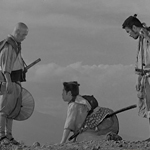 There are some movies that everybody knows are great and you'd be a fool to deny it. One such movie involves a group of cooperating samurai numbering seven. This is their review.
1954 was a pretty good year for film. Many of the films that were popular in the U.S. are still watched and discussed today: REAR WINDOW, WHITE CHRISTMAS, 20,000 LEAGUES UNDER THE SEA, CARMEN JONES. The best picture/director/actor/supporting actress winner was ON THE WATERFRONT, a movie that turned out to be, you know, fairly influential for actors. In Japan, meanwhile, the two biggest hits were WHAT IS YOUR NAME?: PART 3 and CHUSHINGURA: HANA NO MAKI, YUKI NO MAKI. I don't think those ever made it to video over here, and little information exists about them in my usual reference sources. The first one appears to be a romance sequel and the latter sounds like it would have something to do with the 47 RONIN story.
In third place at the Japanese box office that year, though, was Akira Kurosawa's SEVEN SAMURAI. It was his fifteenth movie, but his first samurai movie. Would you believe it made more money than the original GODZILLA, which also came out that year? Doesn't matter now. Both have persevered. And SEVEN SAMURAI is a movie justifiably worshiped by snooty film buffs (and in the Criterion Collection) while still being hugely influential in all the lower-brow genres I love: martial arts, westerns and straight up action.
People always complain about long movies, but here's a nearly 3 1/2 hour one (the longest of Kurosawa's career) that's never a chore to watch. It's a great story, simple and elegant, but it takes the time to let us get to know its characters, and to give us that feeling of waiting. Some day after the barley is harvested bandits will attack the village. We want that day to come and be over with but we also want all the time we can to get ready.
If you haven't seen this movie, I'm proud to be the latest one to remind you that you need to see this movie. You need to. Everybody else, you know the story, but let's go over it in case it's been a while. (read the rest of this shit…)