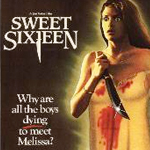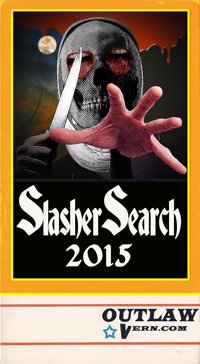 "Now you listen to me, every one of ya, you listen damn close. Because if anybody in this town decides to take the law into their own hands, I'll be on your ass like junebug on shit. I hope I make myself understood and pardon me ladies."
SWEET SIXTEEN is a low budget 1983 slasher mystery shot in Texas. It seems promising at first because it has a certain level of filmmaking competence, an enjoyably corny theme balled called "Melissa," sung by Frank Sparks, and a cool logo with a knife for a T.
That is not to say that it ever seems good. The aforementioned Melissa (Aleisa Shirley, SPACEHUNTER: ADVENTURES IN THE FORBIDDEN ZONE) is first seen during a long, sensuous, narratively (though not hygenically) gratuitous shower. From there we cut to a bunch of drunk rednecks (including Don Stroud) at a bar, play fighting and hugging their buddies until an elderly Native American man named Greyfeather (the final role of Henry Wilcoxon, CLEOPATRA, SAMSON AND DELILAH, THE TEN COMMANDMENTS) walks in. They immediately start racisting the shit out of him until young Native tough Jason Longshadow (Don Shanks, Michael Myers in HALLOWEEN 5) comes in to protect him with a knife.
Melissa, being the new girl in town, walks up to Longshadow in the parking lot and asks if he wants to "ditch the old man and go party." As he bluntly rejects her a couple of the racists yell at him that he's "into little girls." He starts walking in their direction and they run away like they're being chased by a bear. (read the rest of this shit…)
VERN has been reviewing movies since 1999 and is the author of the books SEAGALOGY: A STUDY OF THE ASS-KICKING FILMS OF STEVEN SEAGAL, YIPPEE KI-YAY MOVIEGOER!: WRITINGS ON BRUCE WILLIS, BADASS CINEMA AND OTHER IMPORTANT TOPICS and NIKETOWN: A NOVEL. His horror-action novel WORM ON A HOOK will arrive later this year.