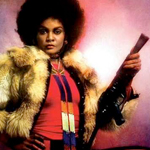 CLEOPATRA JONES is a blaxploitation movie that goes above and beyond the call of duty. It has all the funk, swagger and aspirational badassness that you hope for in the genre, but even more heightened. That's both literal and figurative; Warner Brothers' answer to American International's success with Pam Grier vehicles was to hire the regal 6′ 2″ model Tamara Dobson, teach her some martial arts and have her play an unfuckwithable special agent.
I didn't notice them specifying which agency she works for, her ID literally just says "SPECIAL AGENT," with a presidential seal. And we can't say "secret agent" either because, like James Bond, most people know who she is, and she sure as shit doesn't try to keep a low profile. Her fashion is flagrantly eye catching and she drives a badass Corvette with mag wheels that says her name on the plates and sometimes spews fire out of the back.
To my knowledge CLEOPATRA JONES is the only blaxploitation movie where the first shot is of a camel. Cleo helicopters into a base in Turkey. She steps out in a fur-lined, hooded cape and walks through rows of leaders gathered to give her a queen's welcome. She flew in to personally give the order to drop bombs on a poppy field. "That's right, baby. $30 million worth of shit that ain't goin into some kid's veins. Burn it." (read the rest of this shit…)
VERN has a new action-horror novel out called WORM ON A HOOK! He has been reviewing movies since 1999 and is the author of the film criticism books Seagalogy: A Study of the Ass-Kicking Films of Steven Seagal and Yippee Ki-Yay Moviegoer!: Writings on Bruce Willis, Badass Cinema and Other Important Topics as well as the crime novel Niketown.