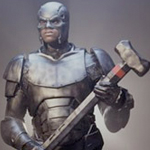 In 1998, we got the first ever black Marvel super hero on film, Wesley Snipes as BLADE. An important milestone in pop culture, a breakthrough for Wesley Snipes, one of the great films of the decade and of the comic book genre. It's momentous no matter how you cut it. For the record, though, DC was ahead of the curve. They had their first black super hero on film one year and one week earlier than Marvel.
But, uh, to be clear it was… Well, it was STEEL. There's no other way to say it. The movie was STEEL. That's the only thing about it.
Shaqille O'Neal is Steel (Christian name John Henry Irons), an inventor of experimental weapons for the U.S. military. We first meet him demonstrating a sonic cannon test model with his friend Sparks (Annabeth Gish, WYATT EARP) and some fucking asshole named Nathaniel Burke (Judd Nelson, NEW JACK CITY). We know John is a nice guy because he's telling a senator about his weapons being non-lethal.
"You like that?"
"Not killing? Yes ma'am, I do." (read the rest of this shit…)
VERN has a new action-horror novel out called WORM ON A HOOK! He has been reviewing movies since 1999 and is the author of the film criticism books Seagalogy: A Study of the Ass-Kicking Films of Steven Seagal and Yippee Ki-Yay Moviegoer!: Writings on Bruce Willis, Badass Cinema and Other Important Topics as well as the crime novel Niketown.