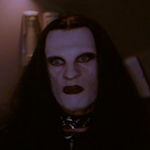 I kinda liked TURBULENCE, but TURBULENCE 3: HEAVY METAL is definitely the gem of the trilogy. That's not to say that it's well made exactly, but it's just such an exuberant mix of different types of ridiculous bullshit that you gotta respect it. That starts (but does not end) with the setup: controversial rock star Slade Craven (who seems to be a mix of King Diamond, Marilyn Manson and Alice Cooper, but doing more of an industrial rock type of thing) has invited a small group of fans to see his farewell concert, which will take place on a "specially designed, absolutely radical" airplane while it's in flight.
Since this was released in 2001 it sort of goes without saying that it's one of those "live internet broadcast" movies, a format that is almost always terrible, but generally provides at least a few chuckles. I get a kick out of how they always have a big board that tells them how many people are watching and somehow it has an immediate, instantaneous relation to what's happening live. Like, if something exciting happens (usually somebody getting killed), suddenly more viewers are watching. (Yes, they have a reader board on the plane to update them on how many.) (read the rest of this shit…)
VERN has a new action-horror novel out called WORM ON A HOOK! He has been reviewing movies since 1999 and is the author of the film criticism books Seagalogy: A Study of the Ass-Kicking Films of Steven Seagal and Yippee Ki-Yay Moviegoer!: Writings on Bruce Willis, Badass Cinema and Other Important Topics as well as the crime novel Niketown.