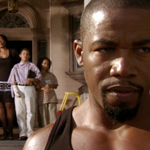 Hello! I'm periodically rolling out these Profiles in Badass columns from earlier this year that I'm sure many of you didn't see in their original presentation behind a pay (and arguably ethics) wall on Rebeller. They're written for a more general audience than outlawvern.com, so they might be pretty basic to some of you, but I think I did a good job putting a finger on the greatness of my various subjects.
For this one it's important to know that Rebeller was owned by Cinestate, producers of Dragged Across Concrete, and I knew they'd want me to mention MJW's part in that movie. But I have, you know, complicated feelings about it. They swore they wanted a diversity of viewpoints, and I figured this was a good opportunity to test their sincerity, so I didn't hold back. To their credit I got no complaints, and the editor later mentioned that he liked me "trolling" them like that when I was arguing with him about something else. Anyway, I'm proud of this one.
VERN has a new action-horror novel out called WORM ON A HOOK! He has been reviewing movies since 1999 and is the author of the film criticism books Seagalogy: A Study of the Ass-Kicking Films of Steven Seagal and Yippee Ki-Yay Moviegoer!: Writings on Bruce Willis, Badass Cinema and Other Important Topics as well as the crime novel Niketown.