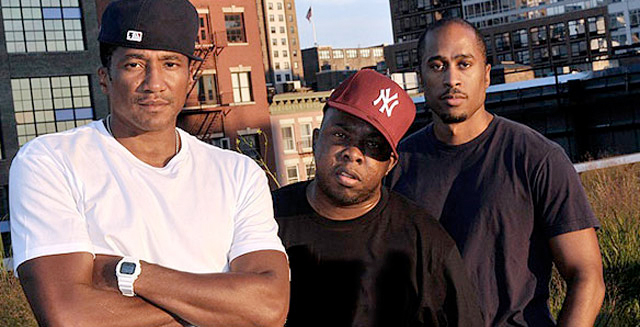 I have to say a few words about Phife Dawg of A Tribe Called Quest (pictured center), who died last night. Rolling Stone reports that it was due to complications of diabetes, which is what you'd expect of the MC who called himself "a funky diabetic" on the classic "Oh My God" and who several years ago received a kidney transplant. It was donated by his wife, as was touchingly depicted in Michael Rapaport's documentary Beats, Rhymes and Life.
I have to agree with the conventional wisdom that A Tribe Called Quest is one of the best rap groups ever. There was a time in the '90s when I started to resent them as the group that every white non-rap fan would say they liked, along with Beastie Boys. But eventually I had to admit to myself that those guys were right. I liked their first album, People's Instinctive Travels and the Paths of Rhythm, which they made when they were teenagers and wearing to wear goofy costumes. The album holds up due to songs like "Bonita Applebum" and "Can I Kick It?" But it's their second album, The Low End Theory, that makes them all-timers.
I still kinda remember the feeling of hearing it for the first time. It seemed so weird and stripped down compared to the complex samplescapes that I loved at the time. The sampling of some jazz basslines and horn riffs seemed very distinct and novel at the time, but the drums seemed so simple and raw. And that's what still stands out to me today. As much as I love their voices and words, I am hypnotized by the drum. (read the rest of this shit…)
VERN has a new action-horror novel out called WORM ON A HOOK! He has been reviewing movies since 1999 and is the author of the film criticism books Seagalogy: A Study of the Ass-Kicking Films of Steven Seagal and Yippee Ki-Yay Moviegoer!: Writings on Bruce Willis, Badass Cinema and Other Important Topics as well as the crime novel Niketown.