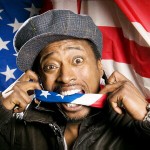 I've always been a man who enjoys this one kind of movie hero, let's call it the counter-hero. The counter-hero is the type of hero who fits the usual mold of the action hero or super hero or what not, but who represents a set of values closer to yours or mine than of the assholes you usually see in movies.
For example you got Snake Plissken or Roddy Piper in THEY LIVE, who are sort of an anti-Rambo. They go around by themselves and take on armies and blow shit up but they aren't doing it in the name of the american government or military conquest or nothing. Snake is the anarchist Rambo, Roddy is the anti-alien-republican Rambo. John Carpenter pictures are full of these type of characters. (read the rest of this shit…)
VERN has been reviewing movies since 1999 and is the author of the books SEAGALOGY: A STUDY OF THE ASS-KICKING FILMS OF STEVEN SEAGAL, YIPPEE KI-YAY MOVIEGOER!: WRITINGS ON BRUCE WILLIS, BADASS CINEMA AND OTHER IMPORTANT TOPICS and NIKETOWN: A NOVEL. His horror-action novel WORM ON A HOOK will arrive later this year.