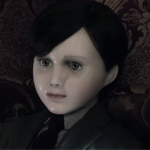 THE BOY (2016) is a slight but enjoyable little PG-13 horror movie about taking a weird job. Greta (Lauren Cohan, DEATH RACE 2, Maggie from The Walking Dead) is a Montanan trying to get as far the fuck as she can away from an abusive ex (Ben Robson, DRACULA: THE DARK PRINCE, Vikings, Animal Kingdom), so she flies to a remote castle somewhere in the UK to work as the nanny for a rich couple called the Heelshires. The mom (Diana Hardcastle, THE BEST EXOTIC MARIGOLD HOTEL) immediately seems to be judging her, while the dad (Jim Norton, STRAW DOGS, MARY POPPINS RETURNS) is looser, but distant. When they introduce her to their son Brahms, he's not what she expected. Like, she expected a human child made out of flesh. Instead he's a porcelain doll propped up in a chair. She thinks they're making a joke at first, so she laughs, and they look at her like she just took a shit on their floor. Maybe they should've been more specific in the CraigsList ad.
It's a good "What would you do?" scenario. She came all the way out here, she probly needs the money, and you could assume "nannying" a doll might be easier than being responsible for a living human being. On the other hand, what the fuck, right? You're gonna get paid by weirdos to pretend all day? Mrs. Heelshire gives her a detailed schedule of everything she's supposed to do for this doll, has a million strict rules, watches her and keeps telling her she's doing things wrong. Even if it pays well, how much advanced doll-playing would you be able to stomach? (read the rest of this shit…)
VERN has been reviewing movies since 1999 and is the author of the books SEAGALOGY: A STUDY OF THE ASS-KICKING FILMS OF STEVEN SEAGAL, YIPPEE KI-YAY MOVIEGOER!: WRITINGS ON BRUCE WILLIS, BADASS CINEMA AND OTHER IMPORTANT TOPICS and NIKETOWN: A NOVEL. His horror-action novel WORM ON A HOOK will arrive later this year.