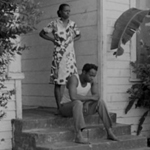 KILLER OF SHEEP is the influential 1978 feature film debut of Charles Burnett, who would go on to direct TO SLEEP WITH ANGER and THE GLASS SHIELD, among other things. Filmed in handheld, 16mm black and white, it's a naturalistic, mostly unstructured (but not documentary) portrait of the working class people of the Watts neighborhood where Burnett grew up.
The lamb-murderer of the title is Stan (Henry G. Sanders, CHILD'S PLAY 3), but that's not to say he's some sicko – he works at a slaughterhouse. The job seems to be as exhausting and soul-sucking as it sounds. In his time off Stan always looks tired, often shirtless, just sitting around unless he's on the floor fixing something or other. Friends are always coming over, sometimes trying to get him to do some crime or other money-making scheme. These leather jacket wearing bigshots try to smooth talk him into something until his wife (Kaycee Moore) comes out to tell them off. (read the rest of this shit…)
VERN has a new action-horror novel out called WORM ON A HOOK! He has been reviewing movies since 1999 and is the author of the film criticism books Seagalogy: A Study of the Ass-Kicking Films of Steven Seagal and Yippee Ki-Yay Moviegoer!: Writings on Bruce Willis, Badass Cinema and Other Important Topics as well as the crime novel Niketown.