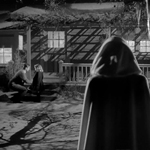 THE CURSE OF THE CAT PEOPLE is a cool and unusual sequel because it is a direct followup to CAT PEOPLE with the same characters, and it references the events of the first movie, but it's an entirely different premise. It came out in 1944, two years later, but theoretically takes place in the then-future because Oliver (Kent Smith) and Alice (Jane Randolph), his assistant who he conveniently left his now dead wife Irena (Simone Simon) for when he thought her cat person beliefs were psychological problems, have had enough time to get married and have a little blond six-year old named Amy (Ann Carter, I MARRIED A WITCH). After failing so spectacularly with his first wife, he uses her tragic ending as justification to continue the exact same oblivious behavior with his daughter, worrying about her being too imaginative and accusing her of "lies" when she tells him strange things like that she heard a voice speaking to her. Once again, the girl he doesn't believe is 100% correct, and shutting her down makes everything worse. That's the curse of the cat people.
In his defense, some of this is probly hard to deal with. Little Amy has a potentially traumatic fiasco where nobody shows up for her birthday party and dad figures out that when she went to deliver the invitations she put them in a fuckin tree hole instead of a mailbox, believing that would work. And then not only does she have a childless birthday, but the next day the kids at school believe they weren't invited and are mean to her. I'm not sure how you deal with something like that as a parent. (read the rest of this shit…)
VERN has been reviewing movies since 1999 and is the author of the books SEAGALOGY: A STUDY OF THE ASS-KICKING FILMS OF STEVEN SEAGAL, YIPPEE KI-YAY MOVIEGOER!: WRITINGS ON BRUCE WILLIS, BADASS CINEMA AND OTHER IMPORTANT TOPICS and NIKETOWN: A NOVEL. His horror-action novel WORM ON A HOOK will arrive later this year.