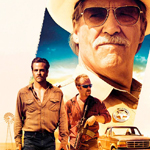 HELL OR HIGH WATER is one of these contemporary westerns, sort of a NO COUNTRY FOR OLD MEN fan film about two brothers robbing banks and two old Texas Rangers trying to catch them. It starts from the perspective of Toby (Chris Pine, SMOKIN' ACES) and Tanner (Ben Foster, X-MEN 3) driving through barren stretches of country highway robbing banks in tiny, impoverished towns from Texas to Oklahoma, in between being brothers, annoying each other, talking around painful shit from their pasts, etc.
They did not cast against type. Tanner is the Mr. Blonde, yelling at and pistol whipping bank employees, causing scenes, screwing a hooker in the same hotel room while his poor brother lays wincing and facing the wall. I think this guy's gonna be trouble. And Toby is the thief with a heart of gold, or at least the one who looks humanely through his ski mask with big blue sympathetic eyes and isn't a jerk when a waitress (Katy Mixon from East Bound and Down) has a nice talk with him. (read the rest of this shit…)
VERN has been reviewing movies since 1999 and is the author of the books SEAGALOGY: A STUDY OF THE ASS-KICKING FILMS OF STEVEN SEAGAL, YIPPEE KI-YAY MOVIEGOER!: WRITINGS ON BRUCE WILLIS, BADASS CINEMA AND OTHER IMPORTANT TOPICS and NIKETOWN: A NOVEL. His horror-action novel WORM ON A HOOK will arrive later this year.