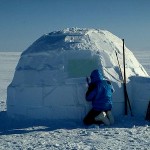 Ahoy, squirts! Quint here about to head off to bed so I can be chipper for tomorrow's flicks at the Santa Barbara Film Festival, but I noticed another review by our own outlaw Vern trickle in via this fancy electronic mail box. I couldn't help but immediately read it… laugh out load at least a dozen times and then post it up for the rest of you folks to enjoy. Without any further ado, here is the man himself!
Howdy fellas,
I'm only watching number movies this week. You saw my review of 2001 MANIACS. I'm planning on seeing THE THREE BURIALS OF (whoever it is, Miguel Arteta or somebody) but there was this screening of Walt Disney's new picture EIGHT BELOW INSPIRED BY A TRUE STORY, so I went to that first. This is a dog movie, and usually a movie like this would have a trailer set to either
a) "Bad to the Bone" or
b) "Atomic Dog"
and then the poster would say, "Every Dog Has His Snow Day" or some stupid shit like that, and the dogs would be wearing sunglasses and possibly giving a thumbs up, if dogs had thumbs. (read the rest of this shit…)
VERN has a new action-horror novel out called WORM ON A HOOK! He has been reviewing movies since 1999 and is the author of the film criticism books Seagalogy: A Study of the Ass-Kicking Films of Steven Seagal and Yippee Ki-Yay Moviegoer!: Writings on Bruce Willis, Badass Cinema and Other Important Topics as well as the crime novel Niketown.