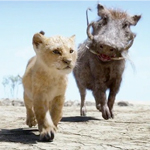 I honestly wanted to see the LION KING quasi-live-action remake in the theater, but never managed to. Turns out it did okay without my money. But by waiting until now to review it I missed out on timely discussions of related issues about a pioneering studio turned monolithic corporation treating their legacy of hand drawn animation as just a shitty licensing library to be resold (and possibly replaced in the imagination of new generations) with more realistic imagery. I guess I addressed it in my review of the (actually) live action ALADDIN. Basically, I'm open to to enjoying these remakes on their own terms, but the whole idea of them is a bummer.
Now let's get to a more controversial topic: I have never thought the original LION KING was very good. I know it's a beloved classic, one of the highest grossing animated movies of all time, etc. I watch it once every 5-10 years hoping to like it better this time, but I always strike out. I liked the dramatic stuff, like everything having to do with Mufasa's death, but I always thought the musical numbers, in addition to not being really my jam, were more of a distraction than a story. And I was not really into the farting warthog. (read the rest of this shit…)
VERN has a new action-horror novel out called WORM ON A HOOK! He has been reviewing movies since 1999 and is the author of the film criticism books Seagalogy: A Study of the Ass-Kicking Films of Steven Seagal and Yippee Ki-Yay Moviegoer!: Writings on Bruce Willis, Badass Cinema and Other Important Topics as well as the crime novel Niketown.