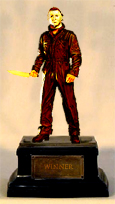 VISITING HOURS is up there with the best slasher movies I've seen. You think you've pretty much exhausted them and then you find out a gem like this that was sitting there all throughout the 1980s, its distinctive VHS box staring at you from the optical illusion eye sockets of its hospital room windows lit in skull formation. I knew that image like I knew my own hands but it never once occurred to me to ask "What is this movie? Should I watch it?" Not until you guys recommended it to me for the hundredth time. So thanks for that.
Some might consider this more suspense thriller than horror. It's different from a HALLOWEEN or a FRIDAY THE 13TH because there's nothing supernatural, there's no mask, we know alot about the killer and he's not a monster or a legend. He's just a crazy weirdo who's slipped through the cracks so far. But I consider it a slasher movie because it has a whole lot of the classic tropes: woman-hating maniac with sexual hangups on a knife rampage, suspenseful stalking sequences, upsetting murders, strong female victims-turned heroes. Carol J. Clover must not've known about this one either or she would've been all over it in Men, Women, and Chain Saws. (read the rest of this shit…)
VERN has been reviewing movies since 1999 and is the author of the books SEAGALOGY: A STUDY OF THE ASS-KICKING FILMS OF STEVEN SEAGAL, YIPPEE KI-YAY MOVIEGOER!: WRITINGS ON BRUCE WILLIS, BADASS CINEMA AND OTHER IMPORTANT TOPICS and NIKETOWN: A NOVEL. His horror-action novel WORM ON A HOOK will arrive later this year.