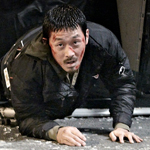 THE YELLOW SEA is a movie about desperation. In the zone between China, Russia and Korea a man named Gu-nam (Ha Jung-woo, the killer from THE CHASER) works a miserable job for criminals, enslaved by debt after they got his wife over the border into South Korea for him. She hasn't sent word back, or the money she was supposed to; every time he mentions her, people tell him she must be a prostitute or remarried. But he never stops waiting for her.
Then one day, salvation. Well, not really. Not at all. But his bullying handlers introduce him to Jung-hak Myun (Kim Yoon-seok, the actual chaser in THE CHASER), who has a job Gu-nam can do to erase the debt. Myun is not to be trusted, but he has a great charisma. He feels authentic in his casual bonding by talking shit about "the bastards" Gu-nam is indebted to.
Of course the job is to kill a guy in South Korea. Memorize an address, go there, kill him, cut off a thumb to prove he did it. Keep the receipts, in other words. I'm not so sure his servitude is what pushed him far enough to say yes. I think it's more the notion that he can look for his wife while he's there. Kill two birds with one stone. Or kill one bird with one stone but use the same stone to try to find another bird. (read the rest of this shit…)
VERN has a new action-horror novel out called WORM ON A HOOK! He has been reviewing movies since 1999 and is the author of the film criticism books Seagalogy: A Study of the Ass-Kicking Films of Steven Seagal and Yippee Ki-Yay Moviegoer!: Writings on Bruce Willis, Badass Cinema and Other Important Topics as well as the crime novel Niketown.