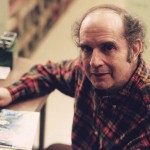 Hey folks, Harry here… Underground Comix are one of the great joys on this planet, one that unfortunately… many in the world have not experienced. Most folks that know of Harvey Pekar, probably know of him via either his Letterman appearances long ago or his radio show. However, they are missing the glory that is AMERICAN SPLENDOR. A comic with his brilliant narrative and the illustrative talents of gods like Robert Crumb (you know him), Paul Mavrides (co-artist with Gilbert Shelton on some of the genius that is THE FABULOUS FURRY FREAK BROS.) and Frank Stack (those wonderful NEW ADVENTURES OF JESUS!) While I'm dying to see this film, having been a reader of AMERICAN SPLENDOR – pretty much all my life… at least since STAR WARS entered the world, I have one thing that I'm dying to see more than this flick… Next year's edition of AMERICAN SPLENDOR – which will deal with Pekar's experiences at Sundance, Cannes and whatnot. Could be AMAZING stuff. His Blog at http://www.harveypekar.com has been pretty great through all of this. Here's the trailers and VERN's take on the film which has won awards at both Sundance and Cannes.
Howdy boys,
Vern here still at the Seattle International Film Festival which is a very good film festival to go to in my opinion, because you just have to take the bus to get there. If you live in Seattle.
Anyway here's the deal, I know you guys are still arguing about "is the Incredible Hulk phoney looking or not" and etc. but I got another comic book movie that is gonna blow you fuckers through the back of the theater. You thought Huge Ackman was born to play Wolverine, you thought Wesley Snipes redefined comic book acting with his performance in Blade, well what about Paul Giamatti playing Harvey Pekar in AMERICAN SPLENDOR? His super powers involve that he writes a comic book, he is a file clerk at a hospital, etc. This is a great performance and a good movie and why are you looking at me so blankly. It won sundance man come on. Did spider-man ever win sundance? Did snoopy ever win sundance? Not even once, in my opinion. (read the rest of this shit…)
VERN has been reviewing movies since 1999 and is the author of the books SEAGALOGY: A STUDY OF THE ASS-KICKING FILMS OF STEVEN SEAGAL, YIPPEE KI-YAY MOVIEGOER!: WRITINGS ON BRUCE WILLIS, BADASS CINEMA AND OTHER IMPORTANT TOPICS and NIKETOWN: A NOVEL. His horror-action novel WORM ON A HOOK will arrive later this year.