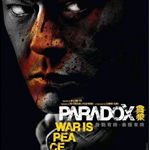 Remember the great Donnie Yen/Sammo Hung movie SPL, or KILL ZONE as the Weinsteins retitled it in the U.S.? If not, do you at least remember SPL 2/KILL ZONE 2, the even greater Wu Jing/Tony Jaa movie that knocked our asses and hearts into the stratosphere a couple years ago? Well, PARADOX was made as SPL 3. That's why I got antsy and ordered an import from YesAsia before I read that Well Go is putting it out in the U.S. on May 8th.
Once again it's not a normal followup, but a thematic sequel, or a spiritual sequel, or a sequel in name only, or a remix. Some of the connective tissue cast-and-crew-wise is that it's directed by Wilson Yip (who directed the first SPL and produced the second), it's produced by Cheang Pou-soi (who directed part 2), it stars Louis Koo (who played the crime boss who needs a transplant in part 2), it has a "special appearance" by Tony Jaa (who was the co-lead of part 2), Ken Lo (part 2) is in it too, and the action director is Sammo Hung (choreographer and co-star of part 1).
Also the cool American cover has a wolf on it, which must be a reference to the weird metaphorical encounter at the end of the last one. I do believe this one is wolf-free. (read the rest of this shit…)
VERN has a new action-horror novel out called WORM ON A HOOK! He has been reviewing movies since 1999 and is the author of the film criticism books Seagalogy: A Study of the Ass-Kicking Films of Steven Seagal and Yippee Ki-Yay Moviegoer!: Writings on Bruce Willis, Badass Cinema and Other Important Topics as well as the crime novel Niketown.