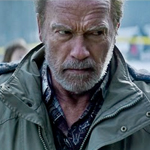 When we look at Arnold Schwarzenegger, who will turn 70 next month, we can't help but remember the 20 year old Mr. Universe Arnold Schwarzenegger, or the thirty-something CONAN THE BARBARIAN Arnold Schwarzenegger. When he fearlessly shows an aging, sagging ass and chest getting out of the shower in his new drama AFTERMATH, my mind couldn't help but flash to his naked arrival in THE TERMINATOR thirty-some years ago. These days he looks like a muscular old dude, but not a machine from the future's overblown idea of the perfect human body, and there are many people who don't want to see their action heroes face the inevitability of getting old. They shame him for not permanently retaining his own unattainable body standard. They make hacky jokes about geriatric Expendables and Terminators in nursing homes.
Fuck 'em. They're wrong. Arnold in his late '60s is still Ah-nold, but now with a little Charles Bronson, a little Clint Eastwood, a little former governor of California who's paying for his mistakes but making the best of it. I like his old man action movies, especially SABOTAGE, and I hope he doesn't give up on them. If there was a constitutional amendment that allowed him to run for president my main concern would be that we wouldn't get any more of those. But I'm also impressed that he's doing small dramas like AFTERMATH and MAGGIE, where he shows that yes, a guy with muscles and a thick accent can still do a very good, very emotional acting performance. (read the rest of this shit…)
VERN has been reviewing movies since 1999 and is the author of the books SEAGALOGY: A STUDY OF THE ASS-KICKING FILMS OF STEVEN SEAGAL, YIPPEE KI-YAY MOVIEGOER!: WRITINGS ON BRUCE WILLIS, BADASS CINEMA AND OTHER IMPORTANT TOPICS and NIKETOWN: A NOVEL. His horror-action novel WORM ON A HOOK will arrive later this year.