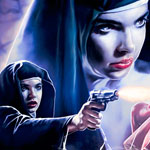 featuring Abel Ferrara as "First Rapist"
MS. 45 is a simple, palatable slice of early sleazy arty Abel Ferrara. Much like his previous film DRILLER KILLER it's his New York art scene take on a genre movie, and a great time capsule of that world, but it's a much more captivating story and – crucially – the people in it are far less obnoxious. Instead of playing the insufferable lead, Ferrara just plays an alley rapist in a Halloween mask at the beginning.
Yes, it's a rape-revenge story like THRILLER: A CRUEL PICTURE, and also a vigilante movie like DEATH WISH. The rape scenes are as disturbing as any, but mercifully short compared to I SPIT ON YOUR GRAVE or something. The vast majority of the slim 80-minute running time is given over to our 17-year-old protagonist Thana (Zoë Tamerlis, later known as Zoë Lund)'s urban murder spree. When she beats a rapist to death with an iron she could report it as a legitimate case of self defense, but she makes the less orthodox choice of hiding the body and using his gun for the .45 caliber execution of adult men who make moves on her, attempted gang rapists, pimps she sees beating prostitutes, etc. A fun new hobby for a young woman living on her own in the city. (read the rest of this shit…)
VERN has been reviewing movies since 1999 and is the author of the books SEAGALOGY: A STUDY OF THE ASS-KICKING FILMS OF STEVEN SEAGAL, YIPPEE KI-YAY MOVIEGOER!: WRITINGS ON BRUCE WILLIS, BADASS CINEMA AND OTHER IMPORTANT TOPICS and NIKETOWN: A NOVEL. His horror-action novel WORM ON A HOOK will arrive later this year.