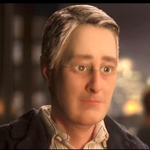 ANOMALISA is a sad, sometimes funny story about loneliness and petty, ugly human nature. If I told you it had some bizarre, seemingly unfilmable premise then that would all add up to tell you it was a Charlie Kaufman film, but it actually doesn't have that. It's just about a guy who travels to Cincinatti to speak at a convention and the night he spends at a hotel. Nothing crazy. It's mostly very realistic, a frank look at relationships between men and women. It's animated, though.
It's all done in a beautiful and unique form of stop motion. Other than being made with small materials it's almost entirely an attempt at naturalism, no cartoonish stylization at all. One exception is that they left the seams between the mouth and eye sections, which in other movies done with this technique such as PARANORMAN or THE BOXTROLLS were digitally removed. But this is a Charlie Kaufman movie so pretty much everything that seems a little strange – those seams, the androgynous facial structure of most of the characters, one actor providing most of the voices – turns out to be intentional and thematic.
We could compare this to Wes Anderson's THE FANTASTIC MR. FOX as another unusual stop motion feature that fits naturally into the filmography of its live action auteur. But that one emphasized the hand-made-ness, showing off the imperfections in animating fur, using cotton balls for clouds and puffs of smoke. ANOMALISA miraculously mimics human intimacy in rubber. (read the rest of this shit…)
VERN has been reviewing movies since 1999 and is the author of the books SEAGALOGY: A STUDY OF THE ASS-KICKING FILMS OF STEVEN SEAGAL, YIPPEE KI-YAY MOVIEGOER!: WRITINGS ON BRUCE WILLIS, BADASS CINEMA AND OTHER IMPORTANT TOPICS and NIKETOWN: A NOVEL. His horror-action novel WORM ON A HOOK will arrive later this year.