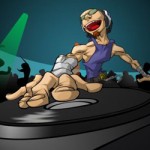 Hey, everyone. "Moriarty" here with some Rumblings From The Lab.
It has come to my attention that some of you are less than thrilled with the stylings of Vern, one of our infrequent contributors. That's a damn shame. I think Vern rules. I would print Vern reviews if he was just talking about what he had for lunch. I am pleased as fuck (see, I can say it, too) to print this review of a film I adore, SCRATCH, which I reviewed before Sundance, and I also wrote about the SCRATCH live event at Sundance, one of the highlights of my year so far. We've also had glowing responses from John Robie, Monki, and others as the film has played at various festivals like South By Southwest and the current Seattle Film Festival. That's where Vern saw it. Check out what Vern's got to say, and if ya don't like it, then as the great Kurtwood Smith once said in the also-great ROBOCOP, "Bitches… leave!"
So everybody keeps telling me Vern, you're in Seattle. You gotta go see this movie called CHOPPER. It's about this Australian ex-con maniac. It's right up your alley Vern, come on bud watch it. And I REALLY want to see this movie. So somehow I end up missing it and seeing a documentary about moving records back and forth on a turntable to make weird freaky type noises that the kids do now. Which they call scratchin.
SCRATCH is a good one though, boys. The movie starts out with a basic background on the rapping music, breakdancing and etc. Then it moves into today's "deejays" who are the folks who just… I don't even know what these fellas are doing. But it's two records and they just… whicka whick scratchety fresh, is basically the noise they make. Hard to explain. (read the rest of this shit…)
VERN has been reviewing movies since 1999 and is the author of the books SEAGALOGY: A STUDY OF THE ASS-KICKING FILMS OF STEVEN SEAGAL, YIPPEE KI-YAY MOVIEGOER!: WRITINGS ON BRUCE WILLIS, BADASS CINEMA AND OTHER IMPORTANT TOPICS and NIKETOWN: A NOVEL. His horror-action novel WORM ON A HOOK will arrive later this year.