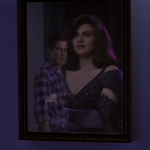 PROM NIGHT III: THE LAST KISS is the only PROM NIGHT movie to directly follow up on the previous one. It opens on the grave of Mary Lou Maloney, who we see is now in Hell, where chained up dead girls in underwear and torn stockings do a kick line barefoot on burning-hot bricks to the tune of '50s rock 'n roll saxophone and moans of agony. But somehow Mary Lou (now played by Courtney Taylor, COVER ME, CAMP BLOOD) got a hold of a nail file, and when she manages to file through her chain she explodes out of her grave and EVIL-DEAD-cams right back to the school, where she manifests a working jukebox to lure in the night janitor (Terry Doyle, NIGHT FRIEND) and ask him to dance with her. She knows him by name because he was one of the many boys she dated in high school.
It's a depressing commentary on small town life that this poor guy would still be living in the same god damn town where he grew up, mopping floors, and so mush-brained that when a mysterious sexy trespasser calls him by the same pet name as the girl he dated in high school who was burned alive in front of his eyes and recently came back from the dead, killed several students and burned down the gym during the prom he smiles nostalgically and says "I haven't heard that name in 30 years. There was a girl–" (read the rest of this shit…)
VERN has a new action-horror novel out called WORM ON A HOOK! He has been reviewing movies since 1999 and is the author of the film criticism books Seagalogy: A Study of the Ass-Kicking Films of Steven Seagal and Yippee Ki-Yay Moviegoer!: Writings on Bruce Willis, Badass Cinema and Other Important Topics as well as the crime novel Niketown.