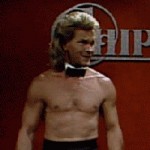 You know, people recommend movies to me all the time. They got a pretty good idea what I'm into, and they got some movie they like, they figure I would like it too. And I've discovered some damn good ones this way. For example I still wouldn't've picked up MR. MAJESTYK if it wasn't for Jeff McCloud, I think was the first guy who told me about it.
Well I can't remember who told me this one, ROADHOUSE. A film by Rowdy Herrington. Whoever recommend this must've been jerkin my chain, but that's all right. I enjoyed this one, even though it is about Patrick Swayze is the world's second greatest bouncer who is sent in to clean up a rough redneck bar, ends up having to kill Ben Gazarra. You know how it is.
I knew this was a good one pretty quick, because a couple minutes into the movie a woman stabs a guy in the hand with a pen, and as payback she gets kicked in the balls. There are alot of feet and knees crushing balls in this movie, but that's normal. I've seen that before. A woman getting kicked in the balls though is not something I believe I've seen before. Until now. (read the rest of this shit…)
VERN has a new action-horror novel out called WORM ON A HOOK! He has been reviewing movies since 1999 and is the author of the film criticism books Seagalogy: A Study of the Ass-Kicking Films of Steven Seagal and Yippee Ki-Yay Moviegoer!: Writings on Bruce Willis, Badass Cinema and Other Important Topics as well as the crime novel Niketown.