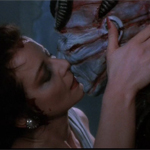 Holy shit, man. You talk about a part II. Somehow this sequel takes the dirty, forbidden, evil vibe of Clive Barker's original and pushes it into the realm of epic (low budget) fantasy. It's hard to believe I saw this sicko movie at Christmas time in a suburban multiplex, but I did. That's just how we rolled back in 1988.
Immediately after the events of part 1, Kirsty is stuck in a mental hospital, I guess for telling the truth about what happened. But she has bigger problems than having to get discharged. For example there's the skinless man who writes "I AM IN HELL HELP ME" on her wall in blood. She's not entirely free of her family's dark underpinnings, because she goes over and touches it and then smears a little bit of the blood on her lip. But she takes it as a message from her dad.
Also there's the matter of the bloody mattress that Julia died on, which she wants the cops to destroy so Julia can't come back the way that Frank did. Little does she know that her doctor Channard (Kenneth Cranham, OLIVER!) is a death-obsessed weirdo, a high class Uncle Frank who collects puzzle boxes, Egyptian shit and information about Hell and magick and what not. He hears her talking about the mattress and it gives him ideas. (read the rest of this shit…)
VERN has a new action-horror novel out called WORM ON A HOOK! He has been reviewing movies since 1999 and is the author of the film criticism books Seagalogy: A Study of the Ass-Kicking Films of Steven Seagal and Yippee Ki-Yay Moviegoer!: Writings on Bruce Willis, Badass Cinema and Other Important Topics as well as the crime novel Niketown.