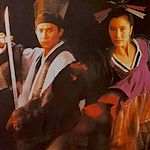 BUTTERFLY AND SWORD is from 1993, so it's after Michelle Yeoh had already done YES, MADAM! and even SUPERCOP, but it's her first straight up wuxia movie. Let me put it this way: in the opening scene in "West Chamber, Eunuch Li's Mansion," I do believe we see a guy's face get ripped off and thrown into a pile of snakes.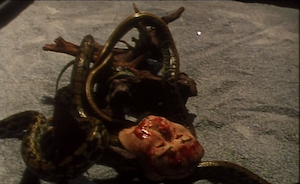 So this is not a drill. This is the unadulterated, berserk kind of kung fu fantasy film where there pretty much aren't characters who don't jump 25 feet in the air and shoot some kind of weapon.
Our male lead Brother Sing (Tony Leung, HARD BOILED, RED CLIFF, THE GRANDMASTER) is introduced bouncing off a string to fly through the air like an arrow, causing at least half a dozen dudes to explode as he hits them. He also has a cool method of holding a bow behind his back and firing his sword. Yeoh's character Lady Ko gets a quicker but even more fanciful introduction flying in with a fanfare of confetti and a web of unfurling purple silk scarves. (read the rest of this shit…)
VERN has a new action-horror novel out called WORM ON A HOOK! He has been reviewing movies since 1999 and is the author of the film criticism books Seagalogy: A Study of the Ass-Kicking Films of Steven Seagal and Yippee Ki-Yay Moviegoer!: Writings on Bruce Willis, Badass Cinema and Other Important Topics as well as the crime novel Niketown.