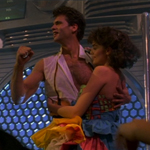 I'm into the early hiphopsploitation for many reasons: they're a time capsule of an era and culture I'm fascinated by, they're sometimes humorously dated or clueless about the subject, and they were what introduced me to that world, accurately depicted or otherwise. The BREAKIN' movies were the big ones, but at the time I liked BEAT STREET better – it felt more authentic, and didn't center on an outsider. Years later I discovered WILD STYLE (definitely the most legit one) and STYLE WARS (the documentary that seems to have inspired some of BEAT STREET), but also started to be much more enamored by the cartoonish world of Special K, Turbo and Ozone in the BREAKIN's.
WILD STYLE was first, released in 1983. But check out the release schedule for '84:
May 4: BREAKIN'
June 8: BEAT STREET
September 28: BODY ROCK
December 21: BREAKIN' 2: WE ALREADY MADE A SEQUEL TO BREAKIN'
BODY ROCK – the one from New World Pictures – is the one I never knew about back then. It's also by far the dumbest one. Therefore I have no choice but to recommend it. It stars Lorenzo Lamas (in the midst of Falcon Crest, five years before SNAKE EATER) as Chilly D, a… graffiti artist? He keeps saying he is, but we only see him helping with one subway car during the opening credits. He's the founder and namer of the Body Rock Crew, his friends who breakdance, and he seems to be some kind of club promoter who introduces them when they dance at a place called Rhythm Nation. Then he stands on the side awkwardly doing a few moves. (read the rest of this shit…)
VERN has a new action-horror novel out called WORM ON A HOOK! He has been reviewing movies since 1999 and is the author of the film criticism books Seagalogy: A Study of the Ass-Kicking Films of Steven Seagal and Yippee Ki-Yay Moviegoer!: Writings on Bruce Willis, Badass Cinema and Other Important Topics as well as the crime novel Niketown.