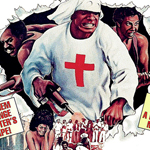 BROTHERHOOD OF DEATH is one of those low budget exploitation movies that promises a seemingly can't-lose premise and then doesn't much deliver on it. Oh well, it's still kinda fun. With the tagline "Watch the brothers stick it to the Klan!," it tells the story of a group of black friends (some of them played by members of the Washington Redskins, I guess) who go off to Vietnam, and become Special Forces badasses. When they get back home they discover that not much has changed. The Klan are terrorizing and raping black people and the police aren't much help because… well, because the police here are the Klan, it's mostly the same group of guys, just wearing different uniforms. So – much too late in the movie – these vets do exactly what Doug Llewelyn used to tell us not to do: take the law into their own hands. They apply what they learned in 'Nam to the situation.
When we first meet them they're driving around in a school bus like hippies, getting drunk off their asses. They get into a conflict with a guy at the gas station who's clearly a racist piece of shit. I gotta side with them while also admitting that they started it. (read the rest of this shit…)
VERN has been reviewing movies since 1999 and is the author of the books SEAGALOGY: A STUDY OF THE ASS-KICKING FILMS OF STEVEN SEAGAL, YIPPEE KI-YAY MOVIEGOER!: WRITINGS ON BRUCE WILLIS, BADASS CINEMA AND OTHER IMPORTANT TOPICS and NIKETOWN: A NOVEL. His horror-action novel WORM ON A HOOK will arrive later this year.