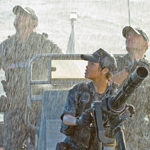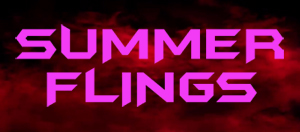 May 18, 2012
Let's say you are a pretty decent commercial Hollywood filmmaker and you have accepted the conventional wisdom that you are now living in a "brand" and "i.p." culture, a world where studios only want to make – and people only want to see – movies based on famous titles of TV shows and comic books and things that they remember from before. And let's say that the toy company Hasbro has stumbled into running a movie production company after Michael Bay turned their Transformers toys into a gigantic movie franchise. And that now they are convinced they can do the same thing with the classic board game Battleship.
Well, that actually happened one time to Peter Berg (THE RUNDOWN), who had not directed a movie for a couple years after his not-brand-based Summer Fling HANCOCK floundered in 2008, and his response was "Why not?" Or maybe "I guess?" or perhaps "Okay. Fine." Since the game is very simple, with no story or characters and I'd say less than five identifiable characteristics that would need to be used in an adaptation, he and screenwriters Jon and Erich Hoeber (RED 1 and 2) could just use it as a fake name to slap onto an expensive wannabe blockbuster than any sane person would know was gonna be broadly rejected only because of the board game name that they didn't need to put on it. But that's life.
("The Game of Life" by the way is also owned by Hasbro.) (read the rest of this shit…)
VERN has been reviewing movies since 1999 and is the author of the books SEAGALOGY: A STUDY OF THE ASS-KICKING FILMS OF STEVEN SEAGAL, YIPPEE KI-YAY MOVIEGOER!: WRITINGS ON BRUCE WILLIS, BADASS CINEMA AND OTHER IMPORTANT TOPICS and NIKETOWN: A NOVEL. His horror-action novel WORM ON A HOOK will arrive later this year.