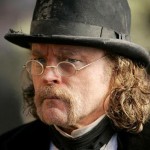 Well judging from the low turnout for this picture in its first couple weeks, I might be the only one. But DAMN if I don't love BRIDE OF CHUCKY. THat was the amazing slasher sequel landmark where the former Hong Kong director Ronny Yu knocked the CHILD'S PLAY series off into a weirdo direction where the killer doll suddenly gets a killer doll wife and it turns into a silly comedy, but with occasional moments of visual poetry courtesy of future oscar winning cinematographist Peter fucking Pau.
Now if you're like me you remember the very end of BRIDE OF CHUCKY, suddenly a little sharp-toothed baby chucky pops out. It's like the traditional sudden-jolt-ending used in every horror movie since CARRIE, but at the same time it's a funny joke because you just KNOW it means we're gonna get a SON OF CHUCKY some day. Or SEED OF CHUCKY it turns out due to the ambiguous gender of the baby. (read the rest of this shit…)
VERN has been reviewing movies since 1999 and is the author of the books SEAGALOGY: A STUDY OF THE ASS-KICKING FILMS OF STEVEN SEAGAL, YIPPEE KI-YAY MOVIEGOER!: WRITINGS ON BRUCE WILLIS, BADASS CINEMA AND OTHER IMPORTANT TOPICS and NIKETOWN: A NOVEL. His horror-action novel WORM ON A HOOK will arrive later this year.