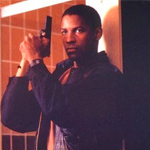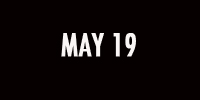 Confession: Classifying FOR QUEEN & COUNTRY as an action film is a bit of a stretch. Yeah, it stars Denzel Washington (RICOCHET, THE EQUALIZER, THE EQUALIZER 2) as an ex-paratrooper, and he gets in some fights and there's an explosion and some people get shot and there's crime and the score is by Michael Kamen (DIE HARD). It's much more of a drama that includes these elements of action and crime movies, though, than it is an action or crime movie.
But look, he has a gun on the poster. I thought it was gonna fit into this series more than it does. Let's not worry about it.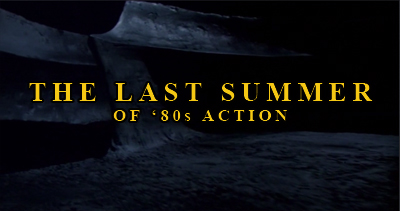 Washington plays Reuben James, who joins the army to move beyond an aimless life as a soccer hooligan – that's right, he's English in this one! – then saw some shit and earned some medals as a gunner in the Falklands. Back in the old neighborhood he tries to get a job and politely decline criminal activities with old acquaintances including high roller Colin (Bruce Payne, HIGHLANDER: ENDGAME), who claims to have a legitimate offer for him, but… come on. And the people with real jobs are indifferent to him, nobody cares that he's a veteran, racist cops harass him and call him slurs, etc. (read the rest of this shit…)
VERN has a new action-horror novel out called WORM ON A HOOK! He has been reviewing movies since 1999 and is the author of the film criticism books Seagalogy: A Study of the Ass-Kicking Films of Steven Seagal and Yippee Ki-Yay Moviegoer!: Writings on Bruce Willis, Badass Cinema and Other Important Topics as well as the crime novel Niketown.