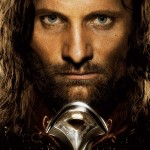 Viggo Mortensen is a damn contortionist of the face. He stretches and twists that motherfucker from regular Viggo face into badass Russian gangster face. His eyebrows and the lines on his forehead turn into an arch. His mouth twists and curls into an arrogant smirk. The slash-like lines on his cheekbones suck extra deep into his skull. I could've sworn the motherfucker even created a dimple on his chin somehow, like through some weird breathing technique, but I checked photos and it turns out he already had that. But it fits his character well. That's just the chin dimple a Russian gangster like that would have.
After all those years of great supporting performances, and then hitting the lottery by being the king that returned in RETURN OF THE KING, now he is getting the roles he was born for. A HISTORY OF VIOLENCE is my favorite of his movies so far, so I'm glad he's reteaming with Dave Cronenberg here. Hopefully they will continue to collaborate for at least one more movie, it could be known as "the Viggronenberg Gangster Trilogy." (read the rest of this shit…)
VERN has been reviewing movies since 1999 and is the author of the books SEAGALOGY: A STUDY OF THE ASS-KICKING FILMS OF STEVEN SEAGAL, YIPPEE KI-YAY MOVIEGOER!: WRITINGS ON BRUCE WILLIS, BADASS CINEMA AND OTHER IMPORTANT TOPICS and NIKETOWN: A NOVEL. His horror-action novel WORM ON A HOOK will arrive later this year.