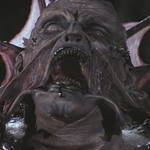 JEEPERS CREEPERS 2 is a confident, well-constructed movie about a weird monster dude flying around eating a whole bunch of people. It starts out with the admirably to-the-point text:
"Every 23rd Spring
for 23 days
it gets to eat"
This is day 22, shortly after the events of part 1. We hear in a TEXAS CHAIN SAW-esque radio broadcast that the authorities are still dealing with the "The Horror in Poho County," the "well past 300" dead bodies with missing organs that they discovered under a burned down church.
This is the handiwork of "the Creeper" (Jonathan Breck, SPY KIDS: ALL THE TIME IN THE WORLD IN 4D), who seemed at first like a spooky serial killer in a big farmer hat and long coat driving around in a creepy truck, but turned out to be a demon with big ol' wings tucked under there. Well, it's no secret anymore so this time he uses the wings for most of the movie, which leads to some cool action ideas, but also some special effects-related weaknesses. There are some shots of him flying that take you out of the movie with fakiness. But there are some good ones too. This scene where he chases after a car at night looks pretty convincing: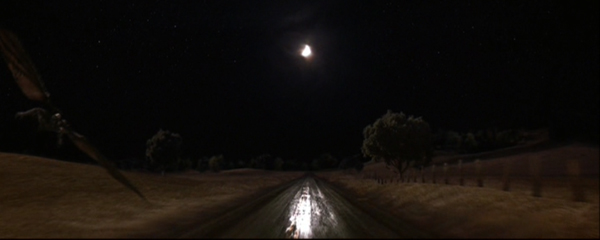 (read the rest of this shit…)
VERN has been reviewing movies since 1999 and is the author of the books SEAGALOGY: A STUDY OF THE ASS-KICKING FILMS OF STEVEN SEAGAL, YIPPEE KI-YAY MOVIEGOER!: WRITINGS ON BRUCE WILLIS, BADASS CINEMA AND OTHER IMPORTANT TOPICS and NIKETOWN: A NOVEL. His horror-action novel WORM ON A HOOK will arrive later this year.