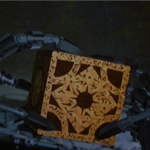 HELLRAISER: BLOODLINE is produced and distributed by Miramax and, in related news, directed by Alan Smithee. It's a mess, and it's not surprising that it ended up being the last theatrical HELLRAISER.
You would remember it if you've seen it, 'cause it's the one where Pinhead is in space. Hear me out, fellas. It's a story that spans three time periods. It starts on a space station that has been hijacked by its own designer Merchant (Bruce Ramsay, BRICK MANSIONS). The space marines take him into custody and he tells them the story of how his ancestor invented the famous puzzle box that opens the gates to Hell, and now a debt has been passed on through the family and he's trying to close them. Obviously they don't get it, but he better convince them, because he has Pinhead trapped in a containment unit! (read the rest of this shit…)
VERN has been reviewing movies since 1999 and is the author of the books SEAGALOGY: A STUDY OF THE ASS-KICKING FILMS OF STEVEN SEAGAL, YIPPEE KI-YAY MOVIEGOER!: WRITINGS ON BRUCE WILLIS, BADASS CINEMA AND OTHER IMPORTANT TOPICS and NIKETOWN: A NOVEL. His horror-action novel WORM ON A HOOK will arrive later this year.