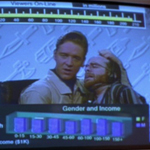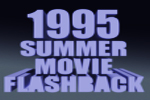 There are many things I don't understand about the sci-fi world and story of VIRTUOSITY. It opens with Parker Barnes (Denzel Washington) in a Captain Panaka cosplay outfit chasing a killer through the business district, where everybody is in a suit carrying a briefcase, like they're in The Matrix. It does turn out to be a virtual reality simulation and Parker turns out to be a prisoner, though he was formerly a cop until he accidentally killed an innocent(ish) journalist while killing the guy who killed his family.
But what is the reason for this simulation? I guess it's supposed to be for training? But then why are they training prisoners? I guess because it's still in Beta testing. With its current calibration, getting killed in the virtual world can cause the player to go into convulsions and die in real life. (You hear that, Wachowskis? See if you can take that idea and do something better with it.) (read the rest of this shit…)
VERN has a new action-horror novel out called WORM ON A HOOK! He has been reviewing movies since 1999 and is the author of the film criticism books Seagalogy: A Study of the Ass-Kicking Films of Steven Seagal and Yippee Ki-Yay Moviegoer!: Writings on Bruce Willis, Badass Cinema and Other Important Topics as well as the crime novel Niketown.