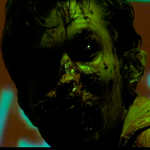 MULBERRY STREET is a low budget horror indie with a completely unique feel. It's basically another zombie outbreak movie, but none of it takes place on farms, in fields, on country roads, in abandoned factories or military bases. No, it takes place right in the middle of Manhattan, focusing on the diverse residents of one small apartment building. This particular zombie problem disproportionately affects the poor because the infection comes from rats. People get bit and then they act weird and sometimes they start to grow hair on the top of their ears, and their teeth, uh…
Well, they turn into rat people. Okay, I don't like that part. But I was able to forgive it.
Before I scare you off, let me tell you what inspired me to rent it: it's the feature debut of Jim Mickle, who directed COLD IN JULY. And I actually didn't realize this, but the lead is Nick Damici, who is his co-writer and also appears in his movies STAKE LAND, WE ARE WHAT WE ARE and COLD IN JULY. (read the rest of this shit…)
VERN has been reviewing movies since 1999 and is the author of the books SEAGALOGY: A STUDY OF THE ASS-KICKING FILMS OF STEVEN SEAGAL, YIPPEE KI-YAY MOVIEGOER!: WRITINGS ON BRUCE WILLIS, BADASS CINEMA AND OTHER IMPORTANT TOPICS and NIKETOWN: A NOVEL. His horror-action novel WORM ON A HOOK will arrive later this year.