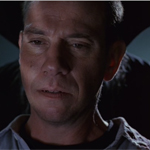 THE NIGHT FLIER has a premise that could only really come from a Stephen King short story: a vampire (Michael H. Moss, ROBOCOP 3) – old school, with a Dracula cape and everything – pilots a small plane, and goes around to different small airports drinking people's blood.
The protagonist is Richard Dees (Miguel Ferrer, ROBOCOP) the star asshole at a shitty tabloid that seems to be a cross between The Weekly World News, TMZ and A Current Affair with a more sick and bloodthirsty edge, as well as an apparent belief in the tall tales they're selling. He's introduced checking the new issue, seeing it doesn't have the photo he wanted, and yelling "WHERE'S MY GOD DAMN DEAD BABY!?" So he's a purist about his scumbaggery. (read the rest of this shit…)
VERN has been reviewing movies since 1999 and is the author of the books SEAGALOGY: A STUDY OF THE ASS-KICKING FILMS OF STEVEN SEAGAL, YIPPEE KI-YAY MOVIEGOER!: WRITINGS ON BRUCE WILLIS, BADASS CINEMA AND OTHER IMPORTANT TOPICS and NIKETOWN: A NOVEL. His horror-action novel WORM ON A HOOK will arrive later this year.