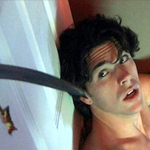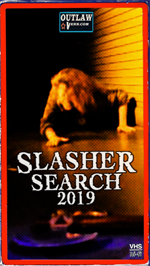 HELLBENT (2004) opens with your traditional lovers lane murder, well shot with colorful tinting that seems to come from a light shining through a bouquet of helium balloons they have in the car. The two lovers are beheaded by a dude (Nick Name, who also provides some of the soundtrack with his band Nick Name and the Normals) with a scythe and devil mask/helmet thing. We've seen a million scenes like this, but there are two things unusual about this version:
1. the lovers are both men
2. the killer is shirtless
Well, mostly #1. The 2014 remaquel of THE TOWN THAT DREADED SUNDOWN had a male-male couple killed in a lovers lane, but this one takes place entirely in the gay community in West Hollywood, so it's fair to call it a gay slasher movie. The hero – Final Boy? – is Eddie (Dylan Fergus), who works a desk job at the police station. He's not an officer – an injury prevented him from finishing the training. He gets recruited to pass out flyers warning people in West Hollywood that there's a murderer loose, and uses Halloween as an excuse to wear his dad's old uniform when he does it. (Strangely he won't get into any kind of impersonating-an-officer trouble while wearing it. But I guess it reminds him of the shoes he's trying to fill.)
At night he goes to a Halloween carnival with some friends, where you have your typical slasher movie debauchery (except gay) while the devil mask guy follows them around looking for a window to behead them. (read the rest of this shit…)
VERN has been reviewing movies since 1999 and is the author of the books SEAGALOGY: A STUDY OF THE ASS-KICKING FILMS OF STEVEN SEAGAL, YIPPEE KI-YAY MOVIEGOER!: WRITINGS ON BRUCE WILLIS, BADASS CINEMA AND OTHER IMPORTANT TOPICS and NIKETOWN: A NOVEL. His horror-action novel WORM ON A HOOK will arrive later this year.