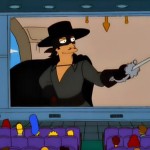 SPOILER ALERT !!
Hey folks, Harry here… A couple of days ago, crazy Massawyrm began yapping about how much he liked LEGEND OF ZORRO and I pretty much wrote the film off, cuz… well Massa is a bit goofy in the head. He's rooting for John McCain to be President in 2008 – so he's not always to be trusted. But then I get this review from man-god Vern that says Zorro is essentially fighting Californian Neocon Christian Terrorist (C.N.C.T for short) and well, that's the kind of goofy ass fantasy that I might be able to sign up for. Here ya go…
Legend of Zorro is an old fashioned cornball type of movie, just like the first one. It's all about sword fights and horse chases and the need for California statehood. You got your swashbuckling, your derring-do, your flips, etc. Zorro is the type of guy who will add a flip into any plan whether it's needed or not. In the opening scene he is chasing an ugly bad guy with wooden teeth, and at one point he does a flip that is actually counter-productive, it causes him to lag behind. But he still catches up. He's fuckin Zorro, man, what did you think was gonna happen? (read the rest of this shit…)
VERN has been reviewing movies since 1999 and is the author of the books SEAGALOGY: A STUDY OF THE ASS-KICKING FILMS OF STEVEN SEAGAL, YIPPEE KI-YAY MOVIEGOER!: WRITINGS ON BRUCE WILLIS, BADASS CINEMA AND OTHER IMPORTANT TOPICS and NIKETOWN: A NOVEL. His horror-action novel WORM ON A HOOK will arrive later this year.