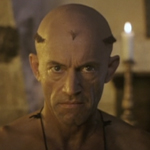 "Confessions are only admitted under torture, otherwise you might confess just to avoid torture and it wouldn't be a true confession."
Stuart Gordon's THE PIT AND THE PENDULUM opens with Grand Inquisitor Torquemada (Lance Henriksen, STONE COLD) and his Spanish Inquisition goons pulling a dead body out of a coffin, convicting him of heresy and giving him 20 lashes, which busts him apart until he's a pile of bones. The man's family watch, outraged, while a bunch of other rich people smile to themselves and lick their lips. Torquemada crushes the dead man's skull into powder and uses it to fill an hourglass. That's all before the credits start.
So, this movie is not fuckin around. And you guys know how I feel about a movie that's not fuckin around. (Usually positive.)
Even still, it kinda snuck up on me. It's a Full Moon production, and they're doing a period piece (Spain, 1492) in the one castle they have access to, lots of fake looking wigs, some actors delivering their lines in a modern tone, some not. And then there's a shitty looking font on the credits and they still couldn't bother to change the title (it calls it THE INQUISITOR). And as it gets into the plot about a woman falsely accused by the Spanish Inquisition it seems like it's gonna be mostly sitting through gruesome torture scenes: public whipping, burning at the stake, some citizens enjoying it, others being forced to watch, people tied to racks, screaming, getting slashed and/or sexually humiliated. But that's just the fuel to a story that really comes together, a nice amalgam of Edgar Allan Poe ideas, adventure and most of all an extreme caricature of the type of hypocrites who stand in judgment of others to hide their own faults. Gordon worked in theater for years before RE-ANIMATOR made him a Master of Horror, and I imagine this is alot like one of his plays. (read the rest of this shit…)
VERN has a new action-horror novel out called WORM ON A HOOK! He has been reviewing movies since 1999 and is the author of the film criticism books Seagalogy: A Study of the Ass-Kicking Films of Steven Seagal and Yippee Ki-Yay Moviegoer!: Writings on Bruce Willis, Badass Cinema and Other Important Topics as well as the crime novel Niketown.