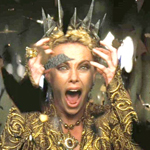 In the story of Snow White, if you remember, the huntsman is the guy who the evil queen sends to bring Snow White out into the woods and murder her. He's gonna do it, 'cause work is work, but then he looks at her and falls in love with her beauty or is touched by her innocence or what have you and he just doesn't have the stomach to, you know, cut open her stomach. (If she was ugly this would be a shorter tale). The Queen wants to know for sure the girl is dead but probly thinks it would be rude to make this guy haul back the whole body, so as a compromise she asks him to bring back some organs  (lungs and liver in the original, heart in the Disney version) so he carves up a pig and brings her impostor parts.
In this new movie-fication of the story the huntsman (Chris THOR Hemsworth) has to go find Snow White (Kristen PANIC ROOM Stewart) in the woods and bring the heart back to the Queen (Charlize Theron) because she needs it to magically stay young forever. He doesn't know who the girl is and there's not much tension like he's really gonna kill her, he just doesn't do it and then they travel on one of those slow, boring fantasy journeys occasionally enlivened by monster appearances. No pigs are harmed.
(read the rest of this shit…)
VERN has a new action-horror novel out called WORM ON A HOOK! He has been reviewing movies since 1999 and is the author of the film criticism books Seagalogy: A Study of the Ass-Kicking Films of Steven Seagal and Yippee Ki-Yay Moviegoer!: Writings on Bruce Willis, Badass Cinema and Other Important Topics as well as the crime novel Niketown.