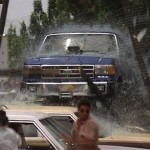 As long as I was renting ROLLING THUNDER I thought what the hell man, might as well also pick up ROLLING VENGEANCE which should be pretty fuckin good considering it's the story of a man achieving the vengeance of the title by means of a huge monster truck with a drill on the front and flames coming off the top. I mean god damn if that isn't a good premise right there. I am not at all surprised that somebody sunk their money into this pile of shit. Especially in 1987, when monster trucks like "Bigfoot" and what not were probaly about as close as a fucking truck could get to being a popular cultural type icon or whatever.
The one thing they failed to take into consideration, though – the killing blow that prevents this movie from being worth your time – is that they made it in 1987. I'm sorry, but 1987 was not a good year. 1980-1989, those were bad years. Sorry. I don't care what cable television tells you about how great the '80s were. Your mother and I have been meaning to talk to you about this, actually. The 1980s were literally the worst decade ever as far as American arts and culture. (read the rest of this shit…)
VERN has a new action-horror novel out called WORM ON A HOOK! He has been reviewing movies since 1999 and is the author of the film criticism books Seagalogy: A Study of the Ass-Kicking Films of Steven Seagal and Yippee Ki-Yay Moviegoer!: Writings on Bruce Willis, Badass Cinema and Other Important Topics as well as the crime novel Niketown.