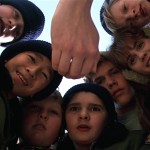 Here on earth there are certain individuals blessed or cursed with a special knack for observing shit, noticing shit and looking at shit in different ways than you or I would. Picking up on things other people don't or explaining things in ways nobody else would've thought of. This skill, this Gift, this power, can come in many forms and be used for many different things. You could become a philosopher or a great leader, like Jesus or Martin Luther King, Jr. Alot of people, if they had it real strong, would become an artist. Andy Warhol is the obvious best example. Unfortunately, most people born with The Gift use their power for evil: standup comedy mostly. Also some of them become characters in Richard Linklater's non-studio movies.
Miranda July, who wrote and directed and starred in this picture, apparently uses The Gift for performance art. Or video installations. Or something like that, I guess. But also for this movie. It's one of those movies where you can tell she had a journal full of random ideas and then figured out how to string them all together. Alot of times a movie like that can be really good, because it feels so packed full of inspiration. AMELIE was a movie like that, where a million little Jeunet ideas were glued all over the top of a love story. In this one the ideas are less integrated, it's more like a list of the ideas in movie form. (read the rest of this shit…)
VERN has been reviewing movies since 1999 and is the author of the books SEAGALOGY: A STUDY OF THE ASS-KICKING FILMS OF STEVEN SEAGAL, YIPPEE KI-YAY MOVIEGOER!: WRITINGS ON BRUCE WILLIS, BADASS CINEMA AND OTHER IMPORTANT TOPICS and NIKETOWN: A NOVEL. His horror-action novel WORM ON A HOOK will arrive later this year.