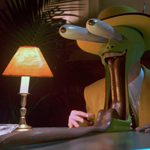 When I was invited to write my recent Polygon article about comic book films of the '90s, I looked over a list and was a little surprised that I had seen and was very familiar with close to all of them. I checked out a few I hadn't seen, like TEENAGE MUTANT NINJA TURTLES III (not great, but not really my thing), and there were a few I felt I really needed to rewatch because I hadn't seen them since they were released. In the case of THE MASK, holy shit, that was 25 years ago. I'm not sure it's a movie anybody talks much about anymore, but I thought it was interesting enough to earn a full review.
I believe that wave of movies I wrote about were all ripples that came out of the giant splash that was Tim Burton's BATMAN in 1989. More than just a hit, BATMAN was a cultural phenomenon. It's hard to explain to people who weren't there, but the hunger for Batman caused by that movie does not have a contemporary comparison I'm aware of. Wearing of bat symbol clothing (licensed or bootleg) rivaled Seahawks gear around here during playoffs. It was a time when they made Converse with bat symbols on them and then I swear to you they made a phone shaped like Converse with bat symbols on them. So studios scrambled to find another old character who could capture the zeitgeist like Batman had, and all those movies being in production paved the way for adaptations of lesser known comics (we didn't call them "properties" back then because we didn't want to sound like assholes). (read the rest of this shit…)
VERN has a new action-horror novel out called WORM ON A HOOK! He has been reviewing movies since 1999 and is the author of the film criticism books Seagalogy: A Study of the Ass-Kicking Films of Steven Seagal and Yippee Ki-Yay Moviegoer!: Writings on Bruce Willis, Badass Cinema and Other Important Topics as well as the crime novel Niketown.