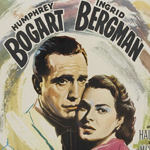 You guys know about this CASABLANCA? 1942, hill of beans, they don't really say "Play it again, Sam," etc.? Yeah, well, until recently I'd never seen it. And that's always intimidating, trying out an iconic classic way after the fact. You don't want to find yourself very respectfully trying to enjoy it. But that wasn't a problem here – I loved it. I won't have to research why it was considered good at the time.
If you haven't seen it either, it's a story about love, heartbreak and duty in a limited, colorful location: Rick's Cafe Americain, a popular "gin joint" in Casablanca, Morocco, the next-to-last stop on the trail of European refugees trying to flee the war and get to the Americas. It's based on an unproduced play by Murray Burnett and Joan Alison called Everybody Comes to Rick's, and that title is accurate: Rick's is a hangout for people of all backgrounds and proclivities. Club owner Rick (Humphrey Bogart) is a disillusioned ex-mercenary from the U.S. whose alleged neutrality makes him the perfect person to welcome Moroccans, French occupiers, immigrants, police, criminals, Nazis, the Resistance. They all come to this place where Rick discourages political arguments and police overlook (and enjoy) gambling. (read the rest of this shit…)
VERN has been reviewing movies since 1999 and is the author of the books SEAGALOGY: A STUDY OF THE ASS-KICKING FILMS OF STEVEN SEAGAL, YIPPEE KI-YAY MOVIEGOER!: WRITINGS ON BRUCE WILLIS, BADASS CINEMA AND OTHER IMPORTANT TOPICS and NIKETOWN: A NOVEL. His horror-action novel WORM ON A HOOK will arrive later this year.